Post by Suyoi on Oct 17, 2012 15:05:22 GMT -8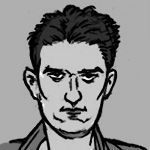 The good doctor muttered to himself as Seth approached, thankful for some form of distraction other than the prattling chatter of people who had plans to bed whomever.
Well, not necessarily bed, but close enough.
"Uhm, it's Doctor Victor, but you can call me Doctor if you feel it is appropriate. If you cannot feel comfortable with the professional title I earned through hard work and years of slavery, you can call me Victor. I will make a list of medications since you asked for it. I will see if Marie would transcribe them down and I can organize them verbally faster than I can with scripting, since I cannot type and I doubt any of you have the ability to read my handwriting."

Seth-
"Good idea, I will talk to Marie. I don't mind calling your Doctor, it feels natural. I just worried it was something like calling you "Mister!" you know, haha."
The doctor flashed his teeth, his lips pulling back in a grimace; maybe a failed attempt at a smile.
"Doctor humor. I want to address something, though. I don't wish to make this urgent because of possible survivors stuck at ground zero. I hope that the place has been blown out like an explosion in terms of people; you don't see too much fire at the center of a fire ball. My urgency comes from the medications itself.
"I appreciate Marie and her intelligence greatly; I would have whisked her away to work at my campus during different circumstances. I like a girl who can work and broker no nonsense. I just don't think Hope is going to play a vital deciding factor in all this... at least with survivors."
The doctor shrugged absently.
"As for what you can do for me, I'd appreciate it if you weeded out anyone who would be going with us that would place someone else's life above that of those all ready here. I do not need to have the added burden of twice as many injuries due to, in part, a mistake made when there obviously is nothing that can be done."

Seth-
"Marie thinks the employees will probably be taking care of themselves. They've a very competent crew. I would invite them to come here, but if what Marie says is true, they might have an even safer building than we do. Marie's only in the state she is because she didn't realize what was going on outside before it was too late.
I'll keep that in mind though, I know it's serious."
Dr. Victor let his eyes drift over Seth's shoulder, rising on the balls of his feet to do so.
"What do you think of Ione? She put forth the zombie treadmill plan. I think she should come with us... or if not, I'd like to have her assist us in setting up plans for construction and development because she, too, has a great head on her shoulders. Just have to keep her, er, well... Sorry, bit running from head to voice back and forth, tiring day, lots of work..."

Seth-
"Oh you know, I think she actually didn't write that one. That Ben guy did. I asked him to be on my council! Actually, while we're talking about it, I wonder if you would like to as well? I figure you're the official doctor of course, but if you'd like some say-so in other matters I would be thrilled. I understand that you'll be busy enough though.
Ione seems nice, I don't really know much about her. She's very friendly."
The doctor returned to muttering before adding,
"Who do you think is going to volunteer to go?"

Seth-
"I'm sure Thierry will, Derek will probably volunteer but I think he might be pretty stressed out. I'm not sure who else, but Davin, Anna, Jackson and that Alex kid helped outdoors earlier, so they might volunteer."